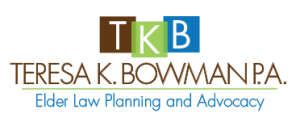 We Are Here To Serve You
    
Teresa K. Bowman P.A. is an Estate Planning and Elder Law firm headed by Sarasota Elder Law Attorney Teresa K. Bowman, Esq.
My mission is simple. I listen and help you and your family develop a plan to meet your needs. This usually starts with a review of your current estate planning documents and your overall goals.
I love my work and strive to create an environment where you feel comfortable to share your story and allow us to establish a relationship of trust and confidence.
I assist my clients with estate planning for asset protection, planning for spendthrift or disabled adult children, or planning for minor children with special needs.
I assist clients with long term care planning to include qualification for Medicaid, VA benefits or protection of assets with the creation of irrevocable trusts.
I assist clients with probate and trust administration and, lastly, I help families deal with many other issues that arise when dealing with a difficult illness and the care of a loved one.
I approach my work as a problem solver and my goal is to help you and your family deal with the problems you currently face or that you may face. Many times you may not immediately need my services, but the services of others in the community. A big part of my job is connecting you with those that can help and I enjoy the teamwork that evolves as we work together to create a workable solution.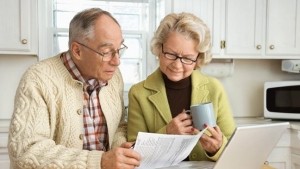 We Offer 
   
♦ Estate Planning to include preparation of:
   – Revocable Trusts
   – Last Will and Testament
   – Durable Powers of Attorney
   – Advanced Health Care Directives
   – Living Wills
♦ Long Term Care Planning Consultation to include areas of:
   – Medicaid Eligibility
   – Veterans' Benefits
   – Preservation of assets
   – Planning for incapacity
♦ Special Needs Planning to include:
   – Preparation of testamentary special needs trusts
   – Preparation of self-settled special needs trusts to maintain Medicaid benefits
   – Preparation of third party special needs trusts to plan for those on Medicaid
♦ Estate Administration to include:
   – Probate of large and small estates
   – Trust Administration
Our Team
For more information about Teresa K. Bowman P.A., feel free to use any of the navigation bars below.Teresa K. Bowman, Esq., has practiced exclusively in Elder Law since being admitted to the Florida Bar in April 2006. Teresa is a member of the National Academy of Elder Law Attorneys, the Association of Florida Elder Law Attorneys, the elder law section of the Florida Bar Association, and an active member of the Florida Association of Women Lawyers. Teresa is a frequent speaker on issues affecting those dealing with illness or disability in Sarasota County and has spoken at statewide and national conferences as an advocate for seniors.
We also encourage you to contact us to schedule a discussion or appointment with a Cornerstone LifeCare Consultant about this or any of our other related Services.