Suncoast Center for Independent Living is a non profit organization providing services to people with disabilities within Sarasota and Manatee Counties. Our goal is to empower people with disabilities to take charge of their lives and guide them through their own destinies.
Mission
Empowering People with Disabilities to Independence.
Vision
Expand and strengthen independent living services to create a fully inclusive society.
Eligibility
Services are free of charge and provided to people with disabilities of all ages residing within Sarasota and Manatee Counties Centers for Independent Living.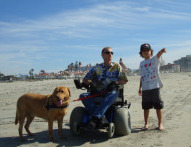 CIL staff, boards, and consumers work together to remove barriers and prejudices in society so that all individuals can live and work and enjoy all that their communities have to offer. Fifty-one percent of the staff and boards of CILs are persons with disabilities, which means that they play significant roles in the decision-making responsibilities of the Centers.
For more information about the Suncoast Center for Independent Living feel free to use any of the navigation bars below.
We also encourage you to contact us to schedule a discussion or appointment with a Cornerstone LifeCare Consultant about this or any of our other related Services.