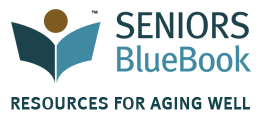 Mission Statement
The mission of the Seniors Blue Book and SeniorsBlueBook.com is to provide seniors, caregivers and senior professionals a comprehensive source of services, senior housing options, resources and information that enrich the lives of our elder population while affording those businesses and individuals serving that population a unique medium to present their products and services.
Senior & Caregiver's Resource of Choice
The Seniors Blue Book and SeniorsBlueBook.com are the resources of choice in every market we serve. We are committed to providing the most complete and comprehensive resources available and are constantly working on compiling new information, expanding our distribution and enhancing existing categories. We list over 70 categories of information, most of which are free resources that support the community. We understand that there are many valuable services available, whether they are paying advertisers or not, and we are proud to support the communities we serve by listing all options available to our readers, not solely based on advertising. Seniors and Caregivers also love our senior activities calendar where they can find out about local events and activities, many of which are free, all of which are worthwhile.
Professionals Resource of Choice
The Seniors Blue Book understands the value of having a strong relationship with the professionals that serve the senior population, particularly with Case Managers, Social Workers and Discharge Planners. We now publish a special printing, just for Case Managers, Social Workers and Discharge Planners, that not only lists the comprehensive comparison grid information they have become accustomed to, but also lists address and fax #'s to help make their jobs a little easier. We also have offer a professionals networking calendar, and a job opportunities page as well.
Area Served: Sarasota,
Bradenton & Charlotte
Counties
For more information about Seniors BlueBook, feel free to use any of the navigation bars below.
We also encourage you to contact us to schedule a discussion or appointment with a Cornerstone LifeCare Consultant about this or any of our other related Services.