Our Wellness Clinic
MaraCare Solutions provides patients with a variety of services to help restore balance of mind, body and skin. Whether you are looking for a more youthful appearance with facial injections or are seeking resolution of bothersome veins, Lauren will individualize a treatment plan right for you.
Dr Jeff Mara has teamed up with BioTE medical to provide bioidentical hormone replacement therapy (BHRT) to help solve hormone imbalances in both women and men. He also sees patients who qualify for medical cannabis to provide state mandated recommendations, as well as guidance and support that can rarely be found in the medical cannabis field.
MaraCare also has an infrared sauna and a massage therapist in office. We will soon be adding additional services and treatments to our practice including IV therapy, dermal fillers, medical grade peels, platelet rich plasma (PRP) facials and hair loss treatment. We are available by appointment and offer flexible hours for patient convenience including early mornings, evenings and weekends.
Dr. Jeff Mara, MD
Originally from Indiana, Dr. Mara graduated from Indiana University Medical School in 1993. He completed his residency in Emergency Medicine at the University of Illinois Peoria in 1996. He practiced in an urban hospital in Indianapolis for almost 20 years before moving to Sarasota in 2015. He has become inspired in recent years to learn about alternative therapies and help his patients practice wellness in their daily lives. He is a longtime Cubs and Colts fan, and enjoys running, trivia, and graphic arts and animation.
Lauren Brue, APRN
Lauren grew up locally in Sarasota before moving to Gainesville to attend the University of Florida where she earned her Bachelors in Nursing. She returned to Sarasota and continued her education at USF where she obtained her Masters as a Clinical Nurse Leader and then attended UMASS Boston achieving a post-graduate certificate as a Family Nurse Practitioner. Lauren lives locally with her husband and 2 children. She enjoys running, dining out, traveling, boating and spending time outdoors.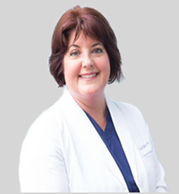 Vicki Mara, RN
Originally from Speedway, Indiana, Vicki went to college in 1988 to pursue marketing. After working as an office manage for a medical practice, she realized her true passion was nursing. In 2000, Vicki became a registered nurse. She worked for many years in a family practice office in a suburb in Indianapolis. In 2006 she took a job doing telephonic case management for patients with chronic medical conditions. All of these experiences inspired her to open a clinic with a focus on wellness and natural medical therapies. She enjoys boating, tennis, and spending time with her 2 rescue dogs.
For more information about MaraCare Solutions, feel free to use any of the navigation bars below.
We also encourage you to contact us to schedule a discussion or appointment with a Cornerstone LifeCare Consultant about this or any of our other related Services.