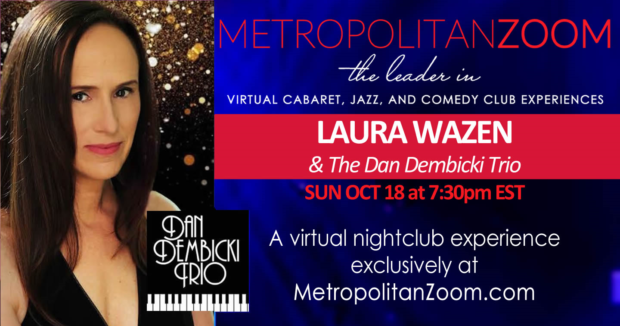 Laura Wazen & The Dan Dembicki Trio
By MetropolitanZoom
Sunday, October 18, 2020
7:30 PM — 9:00 PM
Click Here to Register.
LAURA'S CONCERT OVERVIEW
The concert is on Sunday, October 18 at 7:30 pm, and the virtual doors to the nightclub open 30 minutes before the show for check-in.
It is a LIVE performance! This exciting and unique performance will allow you, the audience, to participate by affecting the performance with your appearance and reactions. The virtual nightclub experience will be as powerful in your mind as an action-packed movie or well-written novel with the entertainment value you've been craving. I will have monitors in front of the stage which will allow us to see each other!
I hope you can dress up and make a special evening of the event! I suggest you enjoy the fun of dressing up, as you would for a night out, to position the camera correctly, and to take advantage of either headphones or home sound system to enhance the experience. Please feel free to prepare your favorite refreshing beverage or snacks to enjoy during the performance.
I will be singing with a jazz trio (piano, bass and drums), and my husband, Jack, has agreed to be the drummer! I hope that this concert brings love and happiness back into our lives with the beauty that only live music can bring. I hope you will be able to make it! If you have friends who love LIVE music, please share this invitation with them so that they can join in the fun!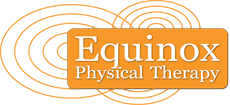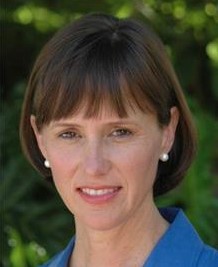 Dr. Laura Wazen, DPT
Doctorate in Physical Therapy
Listen. Listening is the most important step in understanding a patient's concern. It is the most basic beginning, and in health care today, so often undervalued. It directs understanding, direction of testing, and formulation of a plan. It is the most important step in paving the road to treatment and recovery.
Learn. My role is not only to learn from my patients, but to guide them in how to learn from me, what they should do to take back their lives and create positive change.
Live. Life is a gift. The purpose of all treatment at Equinox Physical Therapy is to restore function, independence, and freedom to clients recovering from or living with an illness.

Services Provided at Equinox Physical Therapy

Conditions & Symptoms Treated
Inner Ear Balance Problems
Benign Paroxysmal Positional Vertigo (BPPV)
Meniere's Disease
Vestibular Neuritis
Labyrinthitis
Bilateral inner ear weakness
Unilateral inner ear weakness
Other Conditions
Stroke
Parkinson's Disease
Dysequilibium
Central Vestibular disorders
Facial Paralysis
Concussion
Common Symptoms Treated
Dizziness
Vertigo
Lightheadedness
Motion sickness
Imbalance
Falls
Difficulty walking
Veering when walking
Muscle weakness
Poor posture
Difficulty reading- due to inner ear problems
For more information about Equinox Physical Therapy, feel free to use any of the navigation bars below.
We also encourage you to contact us to schedule a discussion or appointment with a Cornerstone LifeCare Consultant about this or any of our other related Services.