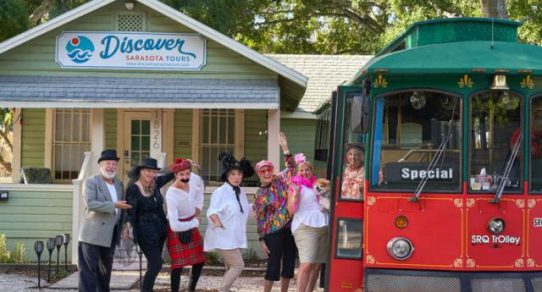 Discover Sarasota Tours offers entertaining, interactive, and informative air-conditioned trolley tours of the most interesting people, intriguing places, and amazing stories that shaped Sarasota's rich cultural past. Our tours run year-round, rain or shine!
Our comfortable, air-conditioned trolleys embark from the Tour's Trolley Depot, a charming 1930s cottage at 1826 4th Street, with free on-site shaded parking behind the Breakfast House off Fruitville Road.
We offer City Sightseeing tours several times a day most days of the week, an Infamous Sarasota Happy Hour tour on Friday nights, twice a week Circus City history tours, and Friday night Haunted Sarasota tours. We also offer Public Art tours on Thursday afternoons, Psychic Sunday tours once or twice a month and Amish Experience tours run Thursday mornings at 10 a.m. Our Sports History tour runs Thursday nights, and our Tiki Trivia Trolley tour runs Sunday afternoons.
We also offer Holiday Tours, Holly Jolly Trolley for Christmas, Love Stories of Sarasota for Valentine's week, an Irish Hooley on the Trolley for Saint Patrick's week and Veterans & Vigilantes for Memorial Day. New tours are added every month!
Discover Sarasota Tours' Vintage Sarasota Shop features curious collectibles and memorabilia curated to complement our trolley tour themes.
Please allow extra time for traffic and plan to arrive 30 minutes in advance of your tour. We leave the Trolley Cottage at the regularly scheduled tour times.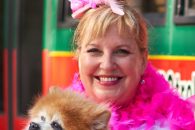 Tammy Hauser
CEO and Founder
Discover Sarasota Tours

For more information about Discover Sarasota Tours, feel free to use any of the navigation bars below.
We also encourage you to contact us to schedule a discussion or appointment with a Cornerstone LifeCare Consultant about this or any of our other related Services.