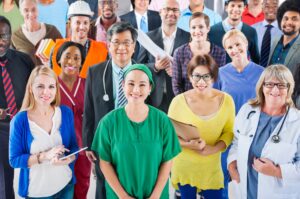 Concierge Care & Wellness Membership Program
** Proposed Pilot for Broadway Promenade Residents
Special Membership Opportunity for Broadway Promenade Residents Offering Access to On-Site Health Care and Wellness Services as Well as Other Personal Support. There are Also Plans for Monthly Wellness Center Gatherings for Screenings, Educational Programs, and Introductions to Preferred Providers.
PROGRAM PARTNERS
YOUTHFUL AGING HOME CARE – CONCIERGE CARE NURSE
The healthcare side of the program will include an On-Site Nurse. This will provide Members with ongoing access to health and wellness services without leaving the community. A Wellness Center office location will be designated for the Nurse, who will be accessible on a scheduled basis. Among other services, the Nurse will provide nursing assessments; address health concerns; conduct medication reviews; oversee care coordination; and be a liaison with physicians.
CORNERSTONE LIFECARE – CONCIERGE CARE COORDINATOR
In addition, Members will have access to a Concierge Care Coordinator who will partner with the On-Site Nurse in providing overall care management for multiple services beyond and including the health and wellness resources. The Concierge Care Coordinator will also schedule regular times to be on-site to meet with Members.
The Concierge Care Coordinator will help you and your loved ones to plan, coordinate, and communicate your overall approach to successful Aging in Place. The Concierge Care Coordinator will point you to services from a team of exclusive and vetted Preferred Providers, who will deliver many of their services right where you live.
CONCIERGE CARE & WELLNESS PROGRAM – OVERVIEW
Monthly Membership Includes:
● Phone access during business hours to both Youthful Aging Nurse and Cornerstone LifeCare Concierge Care Coordinator
● Regularly scheduled days and times for Youthful Aging Nurse and Concierge Care Coordinator to be at Broadway Promenade
● Requests for Individualized Care Coordination Services
● Healthcare questions
● Monthly access to a Wellness Center Health Fair and/or wellness phone check by the Youthful Aging Nurse Care Coordinator (for Members who do not attend the Health Fair)
● The Monthly Health Fair will include Nursing Services such as screenings for Vital Signs, Weight, Blood Oxygen Saturations, and Blood Glucose Checks
● Educational Events
Examples of Services That Would Incur Additional Costs:
● In-home nursing visits
● One-on-one scheduled Wellness Center visits for a more individualized and comprehensive care management approach
● Participation in the John Hopkins Guided Care Program
● Scheduled hourly aide services
● Lab services
● Travel with client to physician appointments
● Individualized coordination of support services by Cornerstone LifeCare Concierge Care Coordinator billed at an hourly rate
EXAMPLES OF YOUTHFUL AGING CONCIERGE CARE NURSING SERVICES
The overall goal is to provide Residents with both a wellness program to prevent and intervene early with chronic conditions and to provide the invisible safety net of that "nurse-in-the-family".
Nursing availability will be included as part of the Concierge Care & Wellness Program Membership during monthly wellness fair's and phone access during business hours. Private appointments can be scheduled for an additional fee.
Services included:
• Physical assessment
• Monitoring of Blood Pressure/Glucose/Vital Signs as determined by the physical assessment and as requested by the client
• Coordination with physician offices for reporting or scheduling visits
• Diagnosis and system specific education and follow-up
• Medication review
• Healthcare questions
• Reporting of changes in health needs
• Coordinating healthcare referrals as requested
• Routine Wellness checks
• Skilled nursing procedures under a doctor's order

EXAMPLES OF CONCIERGE CARE COORDINATION
● Someone to be a Central Advisor and Advocate while Conferring with You, Your Circle of Supporters, and Youthful Aging Nurse to Help Plan, Coordinate, Oversee, and Manage Your Healthcare and Personal Needs
● Facilitator of Communication Among Family, Loved Ones, Professionals, and Broadway Promenade Staff (When Appropriate)
● Triage Counseling Related to Healthcare Priorities and Means of Payment such as Private Pay Versus Insurance Benefits, which May Lead to Potential Savings
● Coordinate Access to Preferred Providers and Other Professional Resources to Serve Your Specific Needs
● Coordination of Resources for Financial and Legal Review to include Eldercare Law, Estate\Planning, Long-Term Care Insurance, Medicaid/Medicare Issues, Social Security, and VA Benefits
● Special Transportation Needs
● Referrals for Brain Health Screenings and Follow-Up Strategies
● Evacuation Protocol Related to Natural Disasters
● Availability of Psychosocial Counseling and Therapy to Address the Emotional, and Mentally Related Health Challenges of Aging
● Access to Cornerstone LifeCare CONCIERGE COVID CARE Services to Address Pre-COVID, During-COVID, and Post-COVID Issues
● Assistance with Transitions to Medical Facilities or Placement in Senior Living Communities
● Special Exclusive Cornerstone LifeCare Programs Such as Medical Cannabis Services
PREFERRED PROVIDERS
Supporting the Program will be a select group of vetted Preferred Providers addressing the potential needs of the Program Members.
Following are examples of the service categories.
Adult Day Care, Balance Therapy, Brain Health, Computer Services, Elder Care Law, End of Life Planning, Financial Recordkeeping, Financial Services, Funeral and Cremation Services, Hearing Loss, House Cleaning, Insurance, Lifelong Learning, Home Modifications/Remodeling, Hospice Care, Medical Cannabis, Medical Supplies, Mental Health Services, Mobile Physician, Mobility Equipment, Parkinson's Support, Pet Care, Pharmacy, Physical Fitness, Real Estate, Senior Retirement Communities, Social Security Consulting, Senior Technologies, and Transportation.
CONCIERGE CARE & WELLNESS PROGRAM – MEMBERSHIP RATE SCHEDULE
Initial Intake: $350
Includes $250 Youthful Aging Home Care Guided Care Health Assessment and $100 Cornerstone LifeCare Care Concierge Care Assessment to be billed by Cornerstone LifeCare.
Then Monthly Membership of $100 billed by Cornerstone LifeCare.
PICTURES FROM A PREVIOUS ON-SITE VISIT AND THE SEPTEMBER 8, 2022
IN-PERSON/ZOOM PRESENTATION AT BROADWAY PROMENADE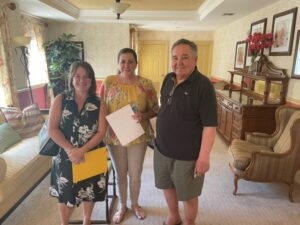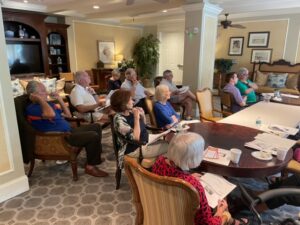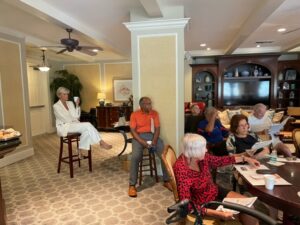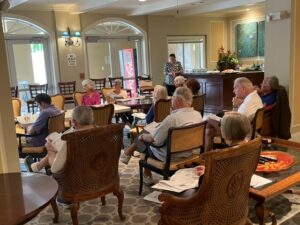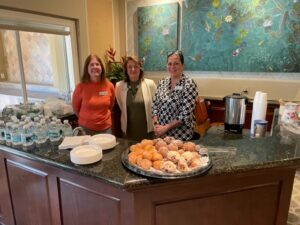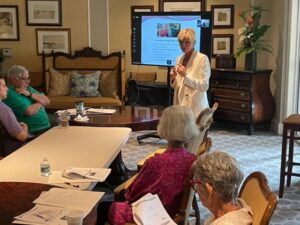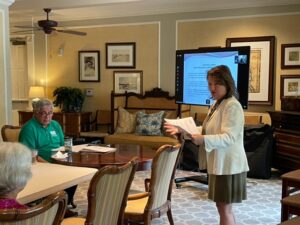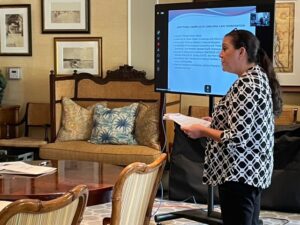 Click Here for Printable Invitation to November 10 Presentation for Broadway Promenade Residents.
Click Here for PowerPoint Presentation for November 10 Program.
Click Here for Printable Program Flyer.
Click Here for PowerPoint Presentation from September 8 Program.
Click Here for INFO FORM.

CONTACT INFORMATION
Youthful Aging Home Health
– Dee Newberry, (941) 925-9532, dee@youthfulaginghomecare.com
– Nicci Kobritz, (941) 925-9532, nkobritz@youthfulaginghomecare.com
Cornerstone LifeCare
– Irene Nobles, (941) 587-1851, irene@allegianthealthadvisors.com
– Don Fitts, (941) 809-7298, don.cornerstonelifecare@gmail.com