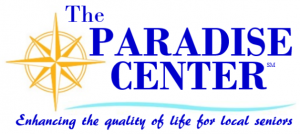 The Paradise Center (formerly Aging in Paradise Resource Center) is focused solely on finding ways to help the members of our community live life to the fullest. Keeping active, both mentally and physically, is fundamental for people of all ages. Our wide variety of programs, classes and workshops offers something for everyone….
We look forward to seeing you soon!
The Paradise Center began as Aging in Paradise Resource Center – an outreach program of the Longboat Island Chapel in 2008.  We are now an independent non-profit dedicated to enhancing the quality of life for local seniors. This includes not only Longboat Key, but surrounding areas such as Anna Maria Island, West Bradenton, Lido Beach and Sarasota.
We do this in a number of ways…
Education 
Join us for seminars, Lunch & Learns programs, and workshops on such topics as Brain Health, Transportation, Advanced Planning, Aging at Home, Money Management, Medicare Options, using a Smartphone, Joining the Facebook community and many, many more.
Health & Wellness
TPC offers a wide variety of health and wellness classes throughout the year.  From Gentle Yoga, Pilates, Tai Chi and Zumba to meditation, nutrition, falls prevention and others.
Referrals
We provide personal referrals for all kinds of services. Everyone needs a reliable source for finding a doctor, plumber, dog walker, you name it! We have gathered a list of professionals who have been personally recommended by our clients.
Community Engagement
Staying engaged with the world on a daily basis is a vital part of a happy, fulfilling life. At TPC, we are here for you! Not only do we have almost 300 yearly classes, but we are always here if you'd like to volunteer your time and talents. Even just one hour per week can truly make a difference in the lives of seniors.

Suzy Brenner
Executive Director
The Paradise Center
For more information about The Paradise Center, feel free to use any of the navigation bars below.
We also encourage you to contact us to schedule a discussion or appointment with a Cornerstone LifeCare Consultant about this or any of our other related Services.