Welcome to Ade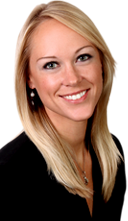 pt Audiology
Adept Audiology LLC is committed to providing the highest standard of care. We spend ample time with our patients and develop customized solutions to meet their individual needs. We are recognized by our patients and colleagues for providing honest and exceptional hearing care.
About Our Audiologist
Dr. Lyndsey Bride, Au.D., CCC-A, specializes in diagnostic hearing evaluations; detection of outer, middle, and inner ear pathologies; and advanced digital hearing aid fittings. She has conducted extensive research in the areas of audiologic counseling, aural rehabilitation, and assessment of bone anchored hearing devices.
A Michigan native, Dr. Bride received her Bachelor of Science Degree from Western Michigan University and her Doctor of Audiology degree from ACAE accredited Central Michigan University. She completed her clinical residency at Michigan Ear Institute, where she trained alongside leading neurotologists and audiologists. Licensed by the Florida and Michigan Boards of Audiology, Dr. Bride is a Fellow of the American Speech-Language and Hearing Association and the American Academy of Audiology.
For more information about Adept Audiology, feel free to use any of the navigation bars below.
We also encourage you to contact us to schedule a discussion or appointment with a Cornerstone LifeCare Consultant about this or any of our other related Services.