Helping people live well by providing care, comfort and compassion.
Tidewell believes that a selection of care and service options along a healthcare continuum provides choice and easy access to those seeking hospice care and palliative support.
Emphasizing patient choice and dignity, Tidewell provides its services to all, regardless of race, creed, culture, gender, sexual orientation or ability to pay.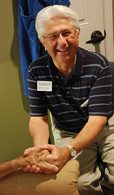 Tidewell is committed to the advancement of services that support the ebb and flow that are a normal part of life's journey and to optimizing comfort for patients and families.
Through education and research, Tidewell fosters the advancement of hospice care and palliative services on the local, state and national levels. Tidewell maintains fiduciary responsibility to develop the financial resources necessary to fulfill its mission.
With Tidewell's supportive services, patients and their loved ones often express a true sense of relief as trained professionals offer care and guidance. Experts in pain and symptom control, Tidewell staff members focus on continuity of care, with patient choice always at the forefront. Decisions are made based on individualized needs, with the realization that something more can always be done to bring comfort and dignity to those living with advanced illness. Rather than a place, hospice is a program of care and support wherever patients need it.
Tidewell Services Include:
• Pain control
• Symptom management
• Personal care
• Respite • Emotional support
• Spiritual support
• Pharmacy
• Home medical equipment
• 24-hour on-call
• Children's services
• Grief support
For more information about Tidewell, feel free to use any of the navigation bars below.
We also encourage you to contact us to schedule a discussion or appointment with a Cornerstone LifeCare Consultant about this or any of our other related Services.