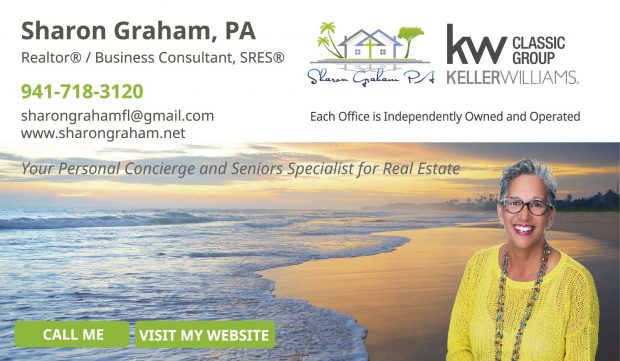 Sharon Graham is a Realtor for Keller Williams of Manatee, FL, and Ocean Park Realty of Oak Bluffs, Martha's Vineyard, MA.
Her Corporate, Culinary/ Nutrition Education, and Real Estate accomplishments lead her to her most recently earned Senior's Real Estate Specialist Certification from the National Association of Realtors.
During her personal time she enjoys creating stained glass artwork, boating, traveling and has become an avid USTA tennis player.
Sharon is currently committed to educating seniors and caregivers on how to prepare for the transition from the comforts of their current homes to a more suitable age-appropriate residence, and how to do this as stressless as possible in conjunction with Cornerstone LifeCare, LLC, whose mission is "Aging Well and in the Right Place".
For more information about Sharon Graham Realty, feel free to use the Cornerstone LifeCare navigation bars below.
We also encourage you to contact us to schedule a discussion or appointment with a Cornerstone LifeCare Consultant about this or any of our other related Services.
Click on the logos below to visit Sharon's website information.