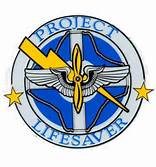 Project Lifesaver has been implemented by the Sarasota Police Department to provide enhanced support and assistance to the families of individuals suffering from Alzheimer's disease or related dementia disorders as well as families with children afflicted with Down's syndrome, autism, traumatic brain injuries or cognitive impairments. These individuals might be prone to wander away from home and become confused or lost.
Participants in Project Lifesaver wear a special wrist bracelet equipped with a small transmitter which emits a signal that Law Enforcement officers can track when someone is reported missing. Search and recovery times have been reduced from days and hours, to minutes. This not only saves time and manpower but also gives caregivers and families peace of mind and reassurance that all possible resources will be utilized in an effort to locate and return their loved ones home safely. The average recovery times have been 30-minutes or less and tracking can be done from vehicles, vessels, on foot and by aircraft.


Please Contact:
Amber Williams
Mobile:  (941) 374-8281
Office:  (941) 364-7329
Email:  amber.williams@sarasotafl.gov
For more information about Project Lifesaver, feel free to use any of the navigation bars below.
We also encourage you to contact us to schedule a discussion or appointment with a Cornerstone LifeCare Consultant about this or any of our other related Services.