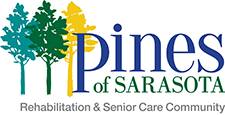 At Pines of Sarasota we are committed to providing excellent and compassionate nursing home (skilled nursing), assisted living, Alzheimer's and rehabilitation care.  Since 1948 Pines of Sarasota has led the way in elder care and education in the Sarasota/Bradenton community.  As a not-for-profit, it is our belief that care is the most important measurement of success. 
Mission Statement:  Pines of Sarasota is a non-profit community dedicated to providing excellent, compassionate healthcare, as well as support and educational services for seniors and their families in order to enhance the quality of life, regardless of financial ability.
Vision:  Pines of Sarasota is the preeminent provider and pioneer in the field of geriatric healthcare, support and education. 
Levels of Care at Pines of Sarasota
Pines of Sarasota has over 60 years of addressing the needs of the elderly in Sarasota and Manatee Counties offering three levels of compassionate care, as well as comprehensive rehabilitation facility and services.
Nursing Home (Skilled Nursing)
Our Nursing Home care is for those who need assistance with the activities of daily living whether for long term care as a resident or short term care while recovering or undergoing rehabilitation. Our team of health care professionals meets with each resident and family to develop an individualized plan of care. As needs change, the care plan is adjusted accordingly with resident and family participation.
Assisted Living
The Assisted Living Community at Pines of Sarasota is designed for those who need extra support and personal care assistance but do not require the intense medical services of a nursing home. It is a non-medical facility providing a comfortable home for 72 residents. Each room is private with an adjoining half bath.
 
Alzheimer's & Dementia – Part of Skilled Nursing
Pines' memory care unit offers specialized care for residents with Alzheimer's and related memory disorders. Our compassionate, experienced, care team understands the stress and difficult decisions that families face when loved ones experience this frustrating disease.
Rehabilitation – Ann & Alfred Goldstein Rehabilitation Center
 
The Anne & Alfred Goldstein Rehabilitation Center offers both inpatient and outpatient rehabilitation services.
Pines of Sarasota  offers Physical, Occupational, and Speech Therapy to its residents and members of the community. Our not-for-profit philosophy allows us to truly meet the individual needs of each patient and resident.
Pines Education Institute
 
About The Institute
Pines Education Institute was established as a regional training center for medical professionals, paraprofessionals and at home caregivers in order to provide cutting edge education and training for a broad range of medical interests, which will improve the quality of care for seniors in residential and home-based settings.
We are positioned to provide outreach programs, support, resources and counseling to family members and caregivers who are involved in the day-to-day care of Alzheimer's and dementia patients. The growing population of home-bound caregivers is very much in need of specialized training, as well as support, in the demanding role they play.
Institute Director
JoAnn Westbrook serves as the Education Institute Director. She received her degree in Gerontology from the University of South Florida. She is licensed as a Nursing Home Administrator and  is certified as an ALF Administrator. JoAnn is also a state certified Alzheimer's trainer. She has worked as an Executive Director for Independent and Assisted Living as well as consulting for new facilities. She is the author of Do You Know Where Your Parents Are?, a comprehensive book of elder placement. Twelve years ago she established The Garden, a specialized unit for 45 residents diagnosed with Alzheimer's disease or other forms of dementia for Pines of Sarasota. In July of 2007, JoAnn created the Education Institute at Pines of Sarasota.
For more information about the Pines of Sarasota, feel free to use any of the navigation bars below.
We also encourage you to contact us to schedule a discussion or appointment with a Cornerstone LifeCare Consultant about this or any of our other related Services.