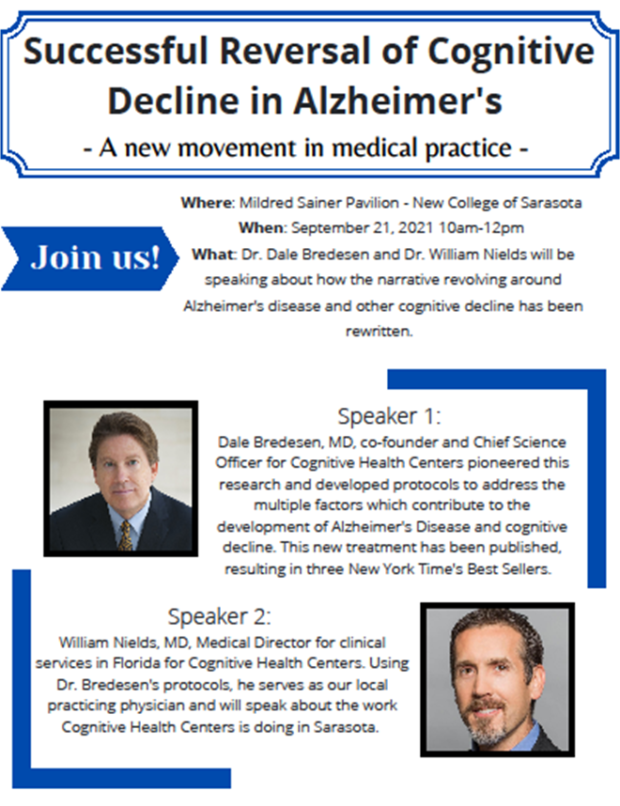 Successful Reversal of Cognitive Decline in Alzheimer's

Where: Mildred Sainer Pavilion – New College of Sarasota
When: Tuesday, September 21, 2021 (10 am-12 pm)
What: Dr. Dale Bredesen and Dr. William Nields
will be speaking about how the narrative revolving around
Alzheimer's disease and other cognitive decline has been rewritten.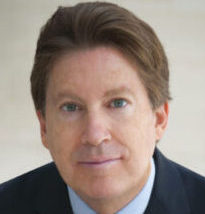 Dr. Dale Bredesen
Co-founder and Chief Science Officer
Cognitive Health Centers
Dr. William Nields, M.D.
Medical Director for Clinical Services in FL
Cognitive Health Centers
Learn How Alzheimer's Disease is Now Treatable
Alzheimer's Disease and other cognitive decline, such as dementia, have traditionally been associated with one word: hopelessness. For most, this imminent fate became the accepted reality, but not for everyone.
Dr. Dale Bredesen is an internationally recognized expert in the mechanisms of neurodegenerative diseases. His research explores uncharted territory in explaining cognitive decline, ultimately opening the door to new approaches to treatment. He has written more than 230 publications, including three New York Times' Best Sellers. Join us, by following the link below, to learn how he has rewritten the narrative of Alzheimer's Disease and other cognitive decline.
Click Here for Printable Flyer.


Click Here to Learn More About the COGNITIVE HEALTH CENTERS.

TO REGISTER FOR EVENT:
Click Here for More Information and to Register for Lecture (Eventbrite).